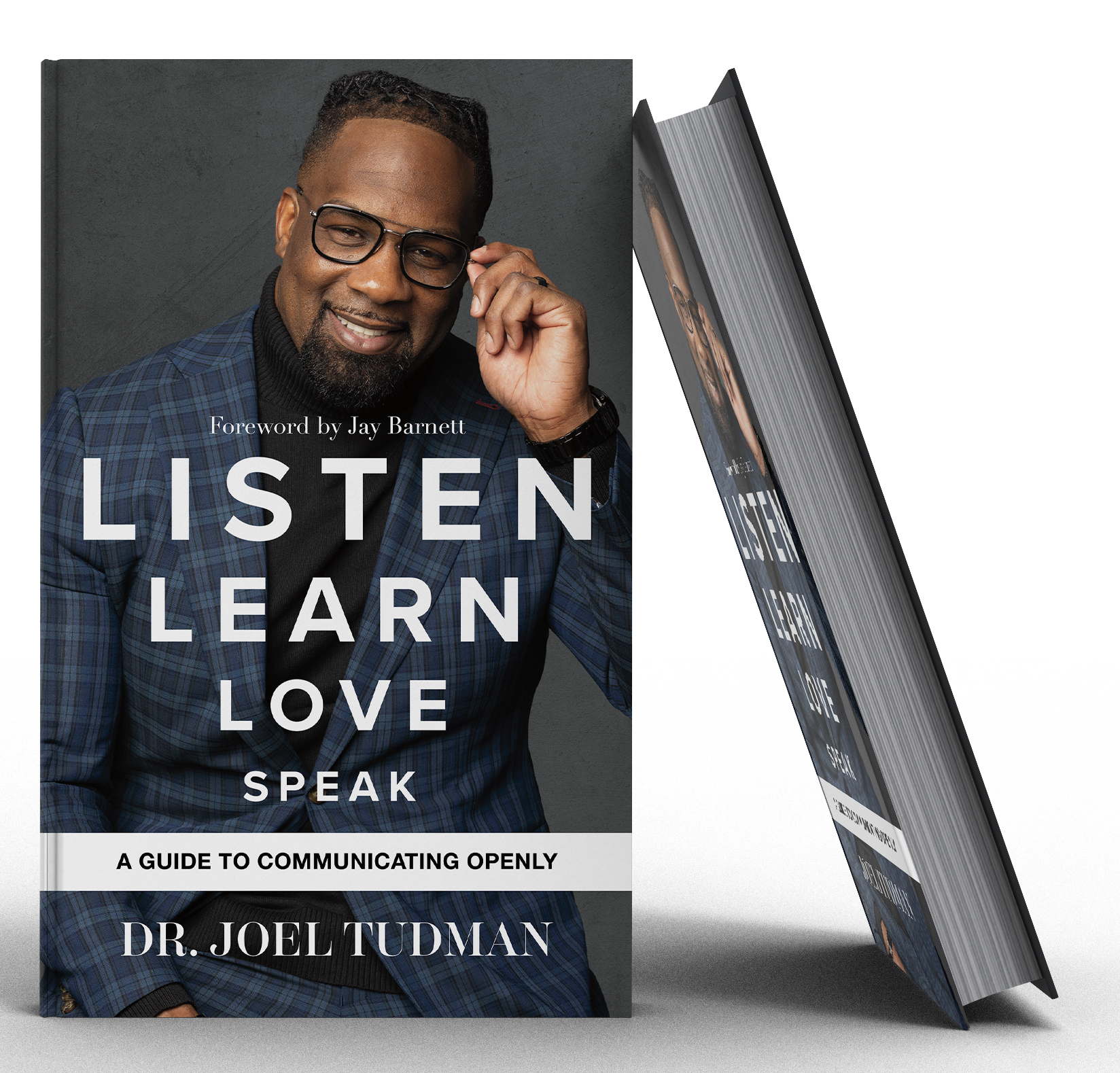 Listen, Learn, Love, Speak – By Dr. Joel Tudman
---
---
---
Communication can be complex when adding openness and transparency to convey your most vulnerable concerns to others. We live in a day where everyone wants to speak first and listen last. This book highlights the listener as the primary communicator and how their listening ability empowers them to form a language toward solution-centered results.
Whether talking to a parent, partner, child, friend, or boss, the lines of communication can get crossed in tone, timing, and perspective, moving the person initiating the conversation into a path of misunderstanding, frustration, and trauma eruption. 
Listen, Learn, Love, Speak is the perfect balance of The 5 Love Languages meets Crucial Conversations teaching readers how to navigate challenging and critical issues by creating a safe emotional space with an open heart. For many men, the defaulting order of discussion is silence until comfortable and avoidance when not feeling respected, valued, or heard. And for most women, the preferred method is to talk until satisfied and confront (or engage) when not feeling loved, appreciated, or acknowledged. This book will help both parties deconstruct ideas of toxic masculinity and femininity that hold men back from experiencing their huMANity and maximize their emotional well-being as fathers, husbands, sons, friends, and leaders. 
Included are self-reflective and guided questions with actionable steps to help you heal and resolve your inner reservations before approaching a much-needed conversation. Listen, Learn, Love, Speak emphasizes confidence in being an excellent listener to learn the person(s) you want to communicate with to deliver your words in love without compromising your voice to speak authentically.
——————–
PRE-ORDER SHIPPING RELEASE DATE: March 31, 2023
Managed and Published by The BluPen on behalf of Joel Tudman
For order questions, bulk orders or inquiries write [email protected]
---